Coin Cell Holders
CCH-1
Battery holder for one coin cell.
A premium range battery holder using a 4-point connection. The CCH-1 is a premium alternative to the CCH-120 and CCH-124 coin cell battery holders.
The CCH-1, a premium battery holder
The CCH-1 is a premium alternative to the CCH-120 and CCH-124 coin cell battery holders. This is a 4-point measurement battery holder for one coin cell. Its design allows the use of coin cells from 1.6 to 3.2 mm of thickness, and diameters up to 24 mm.
The CCH-1 can be directly connected to the BCS-805 and BCS-810 front panels, but also be used on every type of potentiostat / galvanostat / battery cyclers using the 2 mm pins on the top of its connector interface.
The custom design of the connectors offers an optimal electrical contact and coin cell stability, to avoid measurement issues due to vibrations or other mechanical environmental constraint.
The robust materials and connectors used in the production of the CCH-1 makes this battery holder extremely reliable and also gives it its long lifespan.
Benefits of a 4-point connection battery holder
On one hand, the 4-point connection design allows to avoid the measurement of the connectors and holder related impedances.
On the other hand, by measuring only the impedance of the cell, the holder allows to perform reliable and repeatable measurements.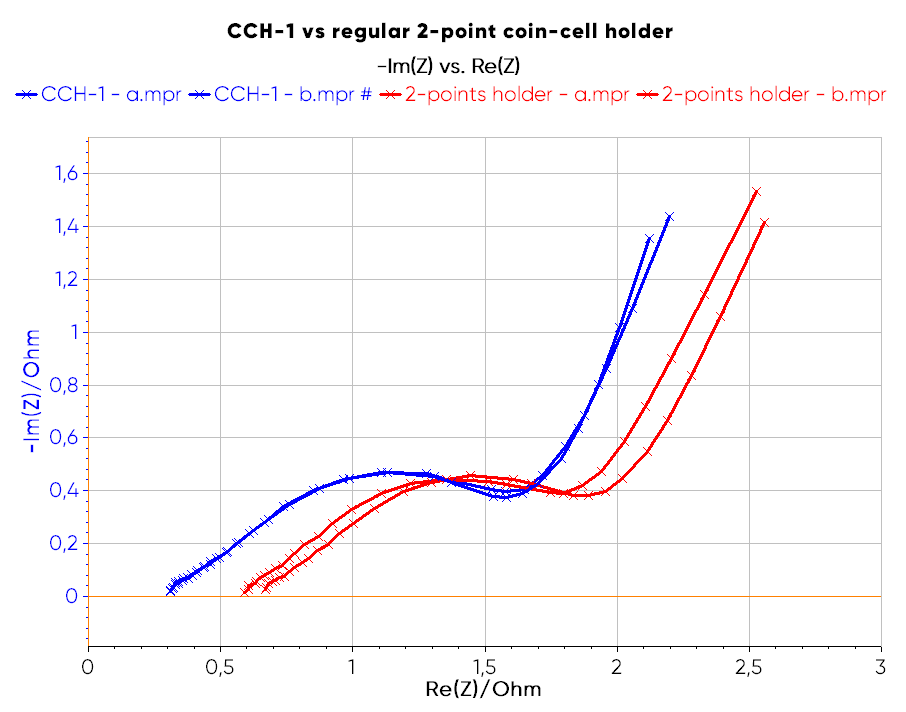 Specifications and ordering information
Product name
CCH-1
Number of channels
1
Measurement point
4 point
Maximum current /A
3
Cell max diameter /mm
24
Cell height /mm
1.6 – 3.2
To be used with
BCS-805/810 (direct connection).
All instruments (using the 2 mm pins).
Maximum operating T° /°C
80
Size (H x W x D) /mm
15 x 30 x 93
Weight /g
16
Catalog n°
096-126
Related products
Your may want to complete your set-up with.
Increased Scope. Greater flexibility.
The following equipment can help you do more with your BioLogic instrument.
Request a quote.
Our team is ready to help
Contact us