Careers
.
Join the team!
Are you passionate about science and technology? Would you like to develop your skill-set within a dynamic, highly-driven, but friendly environment, in a truly international company? For more information, please browse this page.
Why work with us
Every day, BioLogic personnel work together in tight-knit teams, to guarantee the quality and reliability of our products, and develop technological solutions which help our clients achieve their goals and which help BioLogic to stand out in the marketplace.
Human qualities and life skills lie at the heart of our values and we constantly strive to create a culture where initiative, respect, and teamwork are both encouraged and rewarded.
A wealth of talent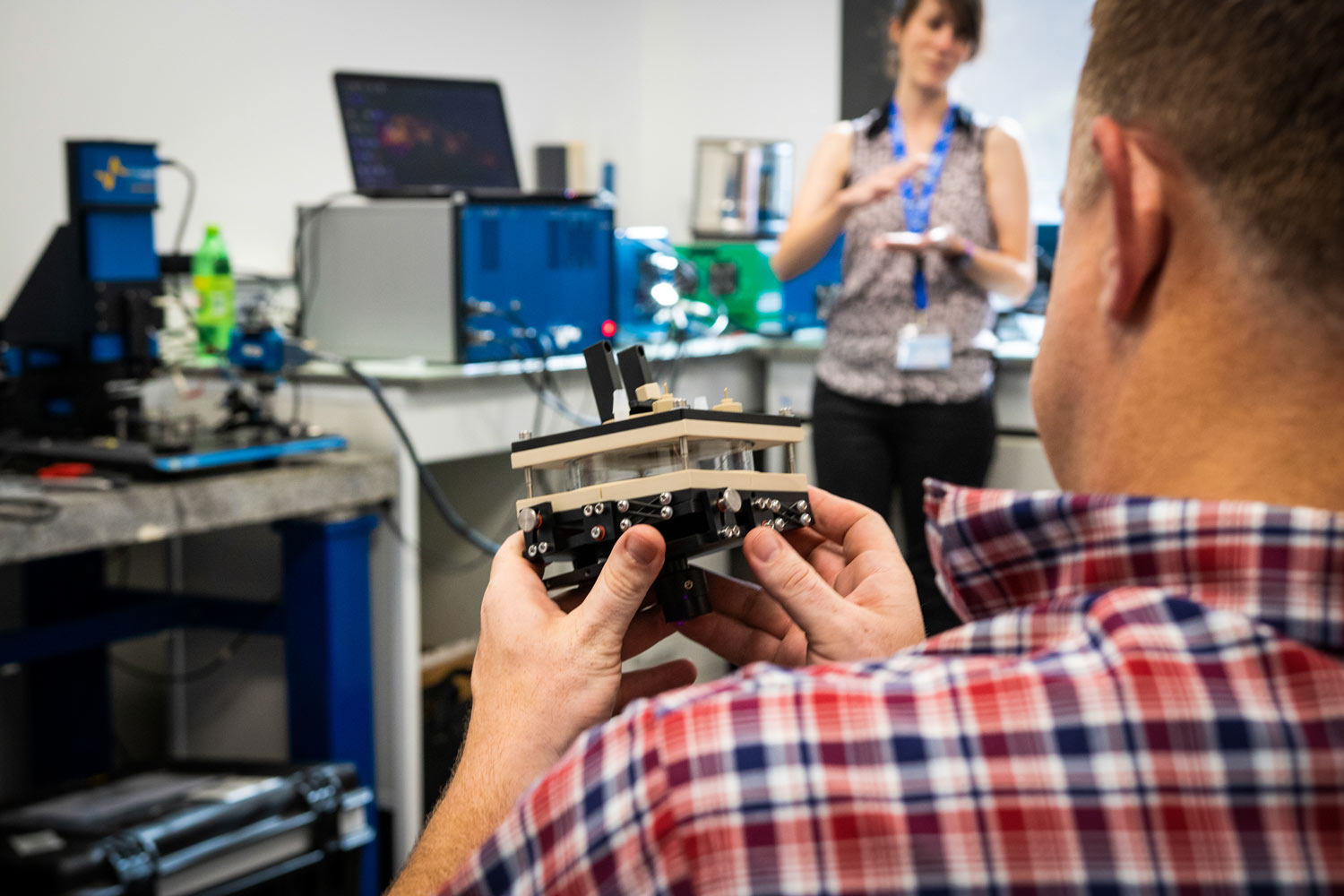 It takes many talented individuals from a wide variety of academic and industrial backgrounds to design and build our high-performance measurement instruments. This includes post-graduate engineers (including PhDs) across the following interdisciplinary functions: Sales engineers, Sales admin, Product Managers, Lab Manager, Project Managers, Technical Coordinators, R&D Development Engineers (electronics, software, hardware, design & mechanics, etc). The build quality of our products is assured by the talent and professionalism of the technicians, who build our instruments, in our own factory in the French Alps.
And our expertise in key support functions such as marketing, finance and IT helps ensure the smooth running of our organization.
Our philosophy
.
From the onset, BioLogic has succeeded by working closely with its customers, listening to feedback and using this information to develop high-quality, market-led products. It's a long term approach. We invest significant time in developing long-term relationships with our customers so we truly understand their work and can help develop solutions that make a difference. We are accountable. We work hard to ensure that our customers can trust us. We develop and manufacture products that will withstand the test of time and the rigors of the laboratory and the factory.
Shared experiences
Inside BioLogic
.
"Working for BioLogic is both a challenging and motivating experience where every trail can lead to a "journey of discovery".  Luckily, we don't travel alone on this journey! The complexity of our work is the real challenge at BioLogic. Much like climbing a mountain, the climb to the top can be tough. But we walk together as a team to meet our objectives.
Giselle Jiménez Cadena
R&D Product Owner
"The best thing about working in BioLogic is being immersed in a highly stimulating environment – everyone you work with has unique knowledge and talents which drive you to your highest level. And we still manage to have fun!"
Irina Alesksieva
Business Analyst – Chef de Projet
"When I arrived at Bio-Logic I realized that the company was in an important phase of its development, still agile like a start-up but, a company with real international ambitions. It was clear that BioLogic is constantly evolving. As a "young" 45-year-old product manager, the challenges that I face every day bring me real day-to-day satisfaction.
Sébastien SOLAN
EC-Lab Product Manager
Fabrication / Montage / Réparation
Dans le cadre du programme de fabrication des produits de l'entreprise, vous êtes responsables de la réalisation de sous-ensembles, du montage final ou de la réparation conformément à une gamme de fabrication / montage ou après établissement d'une gamme spécifique de réparation (après diagnostic du problème) et en utilisant les outillages adaptés dans le respect des règles de sécurité.
Vous garantissez la tenue des délais et de la qualité.
Vous êtes force de proposition pour l'amélioration du poste de travail, des outillages, etc.
Communication
Dans le cadre de la politique définie par la Direction, vous assurez la définition des messages à destination des populations internes ou externes. Vous choisissez les médias les plus adaptés.
Vous gérez la sous-traitance des réalisations externes. Vous définissez et pilotez les réalisations liées aux événements (salons, forums…) aux sites web internes et externes, aux éditions … Vous définissez et gérez les budgets communication.
chevron_left
chevron_right