Connection Accessories
Faraday cages
Keep artifacts away from your cell
The presence of other electrical equipment in the lab can affect your measurement, especially when measuring high impedance systems or very low currents. In this situation, electromagnetic noise emitted by external equipment can be picked up. To prevent this from happening a Faraday cage is needed.
Two Faraday cages are offered: a simple one and an advanced one. The advanced one offers additional gas flow control to maintain a certain type of environment in and above the electrolyte. Please remember that the Faraday cage needs to be earthed. It is usually done by connecting the outer shell of the cage to the earth (green receptacle at the back) of your instrument. It is also important to maintain the cell in the center of the cage. For this purpose, a rod is set by default and optional plate can be purchased. Further details are given below.
Specifications and ordering information
FC-45
Dimensions: 45 x 45 x 45 cm
Material: stainless steel 430.
Cable feed-through. A Feed-through (14 x 4 cm) is available on the left side. It is compatible with all Bio-Logic cables such as:
Standard cable
cable with electrometer i.e. Low Current, Ultra Low Current
bipot cable for the VMP3 instruments
booster cables
eQCM cable
Several cables can go through this feedthrough.
Earth: connection: A 4-mm green plug is available on the rear panel to be connected to the Earth ground chassis of the instrument.
Other input/output: On the rear panel, four openings are available to allow the user to connect the cell to any water or gas tubing.
2 holes (input/output) with a diameter of 2 cm for water tubing
2 holes (input/output) with a diameter of 1.5 cm for gas tubing
A rod (diameter: 1.2 cm) is provided inside the cage. This can be used to fix the cell or the cell cable. Nut and clamp are not provided.
A stand (PN: 094-084/2) is offered as option. It is made of two metallic plates of 20 x 20 cm separated by a plastic tube of 14.6 cm.
This stand can be screwed to the Faraday cage.
It is compatible with the coating, flat, galvanic cells.
Advanced Faraday cage specifications
| | |
| --- | --- |
| Operating temperature range | 0 – 50 °C |
| Power supply | 100 – 240 VAC, 50/60 Hz |
| Fuse | 1970-01-01 01:00:00 |
| Gas pressure | ‹ 34 kPa max. |
| Size (W x D x H) | 286 x 230 x 320 mm |
| Interface | IEEE-488, RS-232C |
| Weight | 3.8 kg |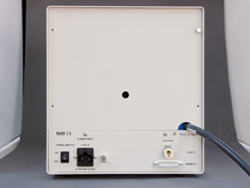 | | |
| --- | --- |
| Faraday cages | Catalog n° |
| FC-45 Faraday cage, 450 x 450 x 450 mm | 094-084/1 |
| Stand for FC-45 | 094-084/2 |
| Standard Faraday cage, 400 x 200 x 600 mm | NS-FAR600 |
| Advanced Faraday cage, 286 x 230 x 320 mm | A-012033 |
Request a quote.
Our team is ready to help
Contact us