Redox Flow Battery Cells
Redox Flow Battery Cells
Let the energy flow
Our range of redox Flow Battery cells are manufactured by Pinflow. They provide optimal reproducibility as well as a high modularity.
The lab cells from Pinflow are specially designed to control the pressure applied on the carbon felts that are used as electrodes.
Using rigid components and non-flat bipolar plates, one can not only perform reproducible experiments but also has the possibility to use various electrode thicknesses.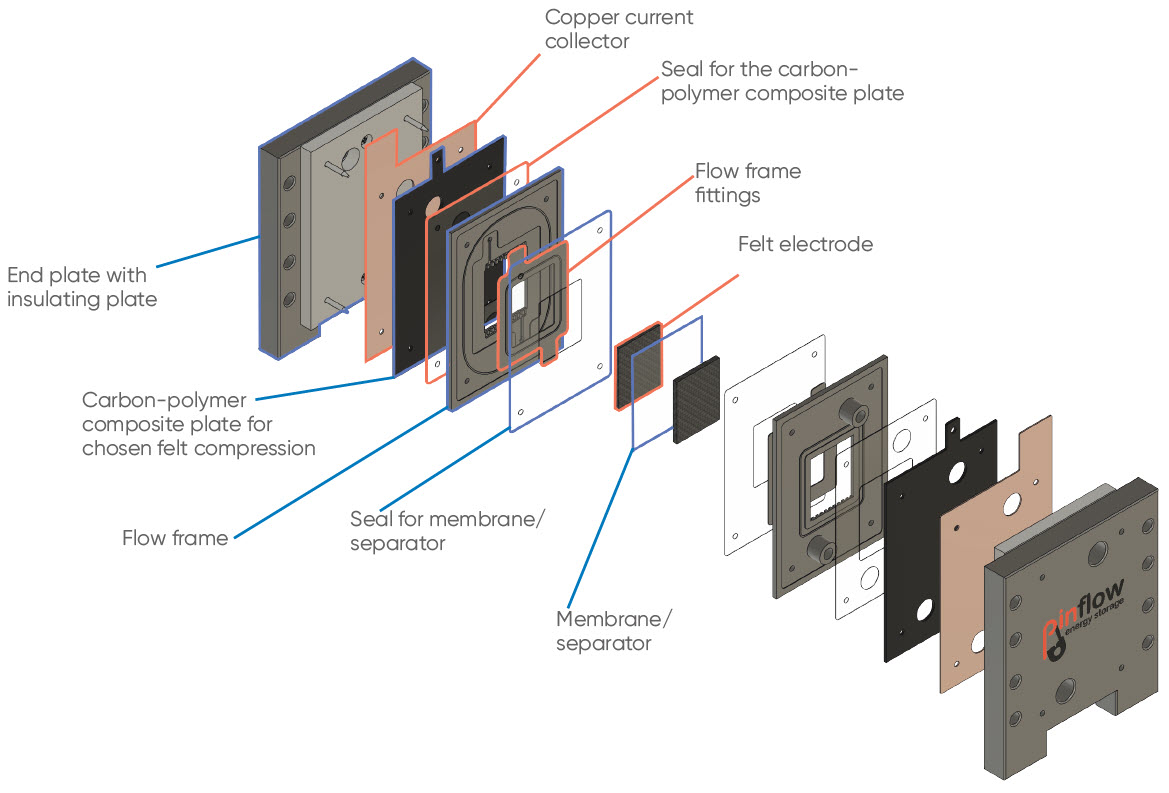 Exploded view of the Pinflow lab cell.
The scheme below shows that by providing non-flat carbon polymer composite plate one can control the compression and the thickness of the carbon felt electrode that is being used. The thickness of the electrode compartment can be easily set up using carbon-polymer composite plates with defined stump or pit.

By default, the gap thickness after assembly of the Labcell with the flat bipolar plates is 3.75 mm.
We can offer non-flat bipolar plates with 0.5 mm protrusion hence reducing the gap thickness to 3.25 mm. What is needed to be achieved is to have a comparable compression rate CR.
CR = 1 – (gap thickness/carbon felt thickness).
With the flat bipolar plate and a 5 mm thick carbon felt the compression rate is equal to 25%. The same compression rate can be achieved with non-bipolar plate with 0.5 mm protrusion and a 4.6 mm thick carbon felt. If other compression rates for other carbon felt thicknesses are needed, please inform your local reseller. Pinflow RFB cells exhibit low internal resistance as can be seen on the load curve below: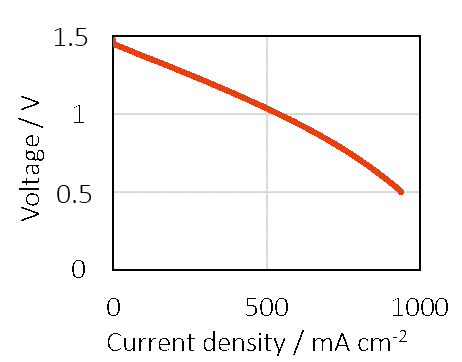 Typical values of internal resistance are lower than 2 Ω.cm².
More data are shown in the following papers:
https://doi.org/10.1016/j.memsci.2018.02.011
https://doi.org/10.1016/j.jpowsour.2018.01.079
Using an internal Ti/Pt electrode, the RFB cell can be transformed into an electrolyzer for oxygen evolution studies. The internal Ti/Pt electrode substitutes the carbon composite plate, the carbon felt electrode and the flat copper current collector in regular Lab-cell assembly. The thickness of platinum layer on titanium plate and mesh insert is 3 μm.
The recommended pump is a Watson Marlow pump 323S with pump heads 313X and 313DW.
The fittings of the LabCells are tailored for tubing with 4 mm inner and 6 mm outer diameter and it fits with Watson Marlow Marprene tubing #16.
Cell stacks and complete turnkey systems with climatic chamber, flow control and vessels are available.
For more information, contact your local reseller.
Please find below ordering informations.
Description
Catalog n°
Lab cells
RFB Lab Cell (3.75 mm spacer thickness)
P-LABCELL/4 (4 cm² cell)
P-LABCELL/5 (5 cm² cell)
P-LABCELL/20 (20 cm² cell)
P-LABCELL/50 (50 cm² cell)
RFB Lab Cell (3.75 mm spacer thickness), for organic media
P-LABCELL/4F
P-LABCELL/5F
Spares
Set of sealings
P-SSEAL/4 (4 cm² cell)
P-SSEAL/5 (5 cm² cell)
P-SSEAL/20 (20 cm² cell)
P-SSEAL/50 (50 cm² cell)
Pack of sealings, contains 10 sets
P-PSEAL/5 (5 cm² cell)
P-PSEAL/20 (20 cm² cell)
P-PSEAL/50 (50 cm² cell)
Set of bipolar plates for different compression
P-SBIPOL/4 (4 cm² cell)
P-SBIPOL/5 (5 cm² cell)
P-SBIPOL/20 (20 cm² cell)
P-SBIPOL/50 (50 cm² cell)
Accessories
Pump with 2 heads for Pinflow cell
P-LABCELLPUMP/2
Tubings and vessels for Pinflow cell
P-TUBINGS
Mounting stand
P-STAND
Felt cutter
P-CUTTER/4 (4 cm² cell)
P-CUTTER/5 (5 cm² cell)
P-CUTTER/20 (20 cm² cell)
P-CUTTER/50 (50 cm² cell)
Torque wrench
P-WRENCH
Set of fittings with new FPM O-rings (Please indicate cell area)
P-FPM
Request a quote.
Our team is ready to help
Contact us