News
Protein Dynamics in Stopped Flow Applications with Dual Comb Spectroscopy
Posted on: May 17, 2021
Access previously unseen mid-IR reactions
BioLogic has scheduled two webinars with its Swiss partner IR-Sweep in June, which will demonstrate how previously unseen mid-IR reactions can be observed using a combination of the BioLogic SFM Stopped Flow, coupled with the IR-Sweep IRis-F1 spectrometer.
Florian Eigenmann (sales manager for IR-Sweep) and Cédric Georges (Product Manager for BioLogic) will present the set-up and results using beta-lactoglobulin as an example.
Please use the registration links below to subscribe to these webinars.
Session 1: Europe and the Americas
June 10th, 6 pm CEST (Central European Summertime)
Session 2: Europe and Asia
June 11th, 9 am CEST (Central European Summertime)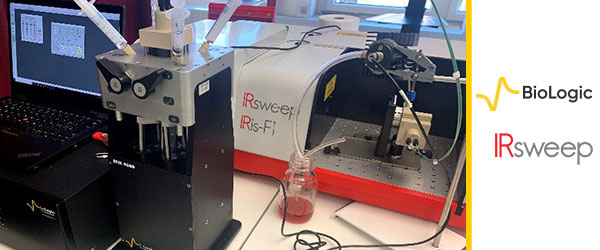 Additional Information (Abstract)
Protein chemists have always wanted to follow kinetics in the mid-infra-red region (mid-IR) in order to better understand protein folding and to obtain information about secondary structure changes involved in the folding process. Traditionally, the stopped flow is coupled to a Fourier Transform Infra-Red (FT-IR) spectrometer. The main limitation of such set-ups for rapid kinetics is the FT-IR spectrometer's time resolution, as the fastest usable acquisition speed is often in the 30-50 ms range. In practical terms, this means that there is a disparity between the capability of the spectrometer and the dead time of the stopped-flow – a disparity which can limit research potential.
The IRis-F1 spectrometer from IRsweep is a dual-comb spectrometer especially designed for rapid kinetics measurements which overcomes the limitations of FT-IR with regards to speed and resolution. By coupling the IRsweep to a BioLogic SFM stopped-flow (a simple process), users can now observe sub-10 ms biochemical reaction kinetics in the mid-IR region that would have previously been impossible, opening up important research opportunities.
The aim of this webinar is to demonstrate how the BioLogic SFM4000 can be easily connected to the IRsweep's IRis-F1 to follow reactions in the millisecond time scale, and to observe never-before-seen mid-IR reactions.
The fast transition from β-sheet to α-helix in β-lactoglobulin secondary structure has been described by Gerwert et al. using trifluoroethanol as a denaturant agent. This fast reaction is used to demonstrate the performance of the coupled SFM-4000 and IRis-F1.
Update
This webinar was presented by Cedric Georges (BioLogic) and Florian Eigenmann to scientists from Europe, North America and Asia in June.
Those wishing to view the webinar, who were not able to attend, can do so by clicking on the window below.
Stopped flow
Protein folding
Dual comb spectrometer
FT-IR time resolution
Spectrometer
BioLogic SFM-4000
IRis-F1 spectrometer
Webinar