News
VSP-3e: Tailor-made for Energy applications
Posted on: December 17, 2019
The latest potentiostat/galvanostat to be added to the BioLogic stable, the VSP-3e has been specifically designed for users specializing in energy applications. Part of the Essentials range, the VSP-3e was born out of feedback from clients who stated that they appreciated the high-specification of the 16 channel VMP3 and the VSP (5 channels) but needed an instrument with more power, making it even more suitable for energy and EIS. And so, a seed was sown for the development of the VSP-3e.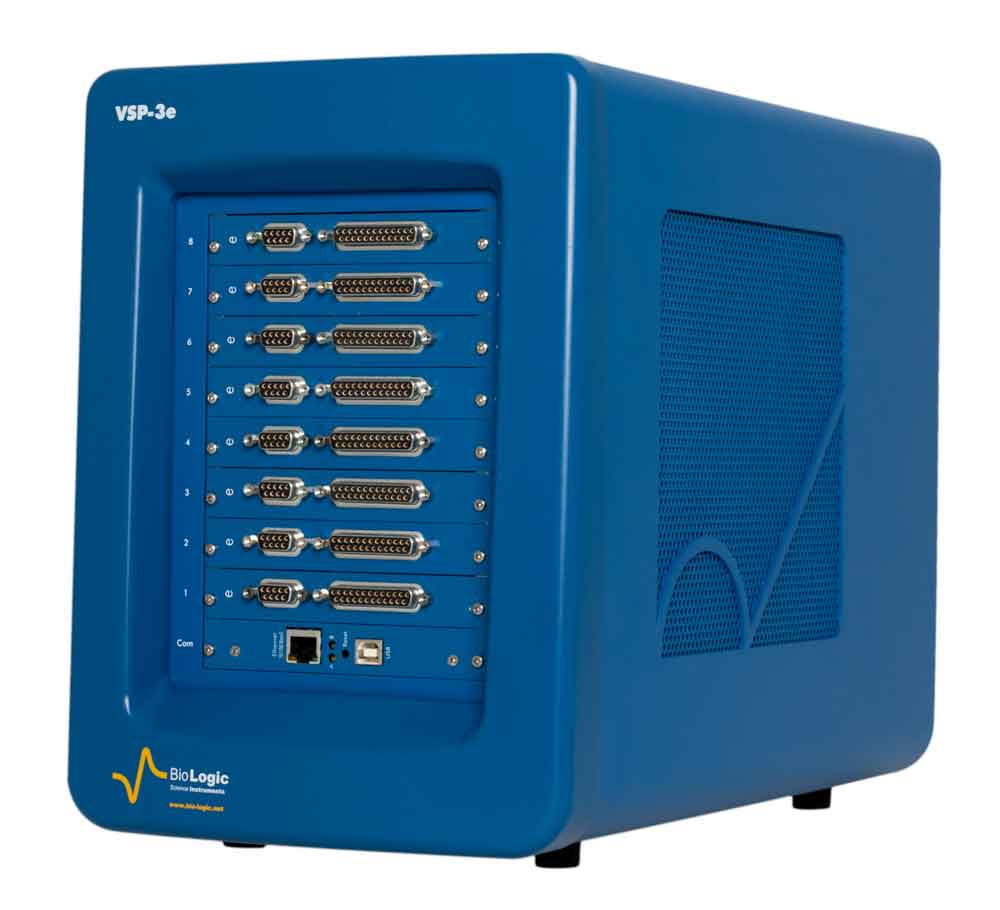 A research-grade multichannel potentiostat/galvanostat, the VSP-3e has space allocated for up to 8 channels, giving the instrument the flexibility to meet the demands of researchers and R&D specialists alike. Furthermore, with +/- 1A (expandable up to 800A with boosters), Ethernet LAN for improved multiple user/PC connectivity and built-in EIS, the VSP-3e is especially suited to battery research applications.
Powered by EC-Lab, the advanced, ergonomic software that has earned itself the reputation as a benchmark for potentiostat/galvanostat control software, the VSP-3e boasts a wide range of unique functionality. Only EC-Lab enables users to build and modify experiments incrementally with "modify-on-the-fly" as well as give users the choice to plan their experiment from a vast array of technical presets.
You can easily configure your VSP-3e to best suit your needs. The new 1 A card will enable you to fully exploit BioLogic Quality Indicators helping you to validate your EIS measurements and consequently maintain the quality of your research.
But you could also opt for a 400 mA card (or re-use an existing card taken from an existing VSP or VMP3 instrument)*. This flexible design enables you to tailor the VSP-3e to your own specific needs so you end up with a configuration tailored to your own area of energy research.
Energy-specific functionality unique to Bio-Logic includes:
enabling you to access data of interest without any further processing.
A compact, upright design reduces the instrument's footprint and saves space in the laboratory. Users can choose from independent channel or multi-electrode (CE to GND mode) configurations (a feature unique to Bio-Logic potentiostat/galvanostats) opening up new scientific research opportunities and electrode configurations to be tailored to applications of choice.
The VSP-3e in a nutshell

Powerful: 1 A expandable to 800 A
Fast/easy access to data of interest: Automatic plotting for Coulombic efficiency
Suits battery pack/cell stack: 20 V control an "stack" mode to follow individual elements
Smart C-rate management: automatically update applied current in line with battery capacity
Saves space: Compact, upright design.
For more information click here
*Cards with an "e" on the instrument chassis are compatible with the VSP-3e. The Low Current Card is incompatible with Quality Indicators.