Product support 10 min read
BioLogic BT-Lab® Software
BT-Lab software: An interface designed for battery testing
The BT-Lab® software offers great usability and flexibility for battery cycling. The powerful "ModuloBat" method offers 15 control modes for easy programming of unique sequences, while the interface is unique and simple, simultaneously showing the experiment parameters and the corresponding graph of each selected channel.
Global view
All channels can be viewed simultaneously on an advanced global view. The status of each channel is displayed with different colors to give quick, informative visual indicators. The time, current, voltage and charge values are all displayed on-line.
On-board firmware
The firmware of the BCS-800 series is a stand-alone operating system. It is loaded into the instrument at the interface launch with hardware control completely autonomous while the experiment is running. BT-Lab® software is Windows-based, compatible with either 64-bit or 32-bit operating systems. It is also a multi-device system, able to control several modules simultaneously.
Powerful ModuloBat method
BT-Lab® software allows the user to define the critical parameters related to their batteries, such as the name, materials, and capacity in the "Battery cell characteristics" section. For experimental definition, the ModuloBat method can be composed of up to 100 different sequences. For any given sequence, the control mode can be selected from 15 mode options and different control modes can be easily linked.
The controlled current can also be defined as a function of the capacity rate of the cell, allowing the user to create more unique and flexible experiments. To save time, each setup can be saved and reloaded on all selected channels simultaneously.
Focus on Modulobat technique dedicated to battery cycling applications
15 control modes:
Constant Current / Voltage/ Power / Resistance
Voltage / Current Scan
Galvano / Potentio EIS
Current Interrupt
DCIR
Galvano / Potentio ACIR
Rest / Loop
Urban Profile Import
Up to 100 sequences
3 limits per sequence
3 recording conditions per sequence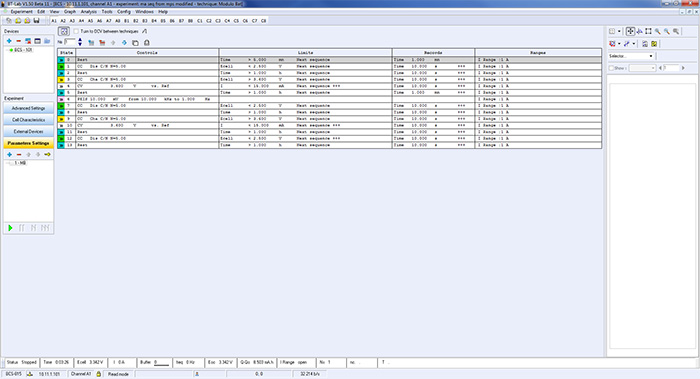 EIS capability
The ModuloBat method includes the capability for electrochemical impedance spectroscopy (EIS) measurements on every channel in a frequency range of 10 mHz to 10 kHz, both in potentiostatic and galvanostatic modes.
Experiment and safety limits
In every sequence of ModuloBat, up to three experimental limits can be selected on measured values such as time, current voltage, temperature, or on a variation of this value. Different, selectable actions may be taken when a limit is reached, such as "stop" the experiment or "go to the sequence N". Additionally, safety limits can be added on each channel to shut down the channel in the event something goes wrong during the experiment.
Intelligent recording conditions
Several recording conditions can be defined for an optimized amount of data points. Multiple recording conditions with "OR" commands are used to avoid missing any variation in the cell behavior during the data recording while also limiting the total data collected to reasonable volumes for faster analysis.
Comprehensive graphics package
BT-Lab's graphic package is embedded with the software and includes powerful tools to create graph templates and analyze data. This package offers a unique trace filtering option by channel. This results in a multigraph window capable of displaying up to 64 graphs within a single window. With the advanced graph properties, the user can add and customize new variables for each axis. Powerful analysis tools (such as integral, circular or linear fit) are also available in BT-Lab®.
Techniques
Voltammetric techniques: OCV, CV, CVA, CA, CP,
Impedance spectroscopy: GEIS, PEIS
Technique builder Modular: Potentio/Galvano, Loop, Trigger in/out, Wait, external device control, send an email, open an external application.
Ohmic drop determination: MIR, ZIR, Current Interrupt
Batteries: GCPL (1 to 7), PCGA, Capacity Determination (BCD), CLD, CPW, APGC, Urban cycle simulation, ModuloBat
Supercapacitors: CV, Constant Voltage, Constant Current, Current Scan
Photovoltaic/fuel cells: I-V characterization, CLD, CPW,
You cannot access this ressource because you have not registered this product
Version history
BT-Lab® v1.74 (online November 11, 2022)
Add the Qseq and Qprev limit in ModuloBat
Add the support of Binder climatic chambers
Correct a memory leak problem
Correct an Access violation error
Correct the import of settings created in previous version of the software
Correct the inability to change of IP address of an instrument
Homogenize the calculation of efficiency
Improve the DCIR manual section
The installation of this version requires a restart of the instruments
BT-Lab® v1.73 (online April. 04, 2022)
BT-Lab® v1.73 update
New CC-CV technique in Modulo Bat (MB)
Process data open for BCD technique
Summary per protocol is now available per MB sequence
Improvement of the software performance (graphical and application memory in windows)
Necessitates a restart of the instrument
BT-Lab® v1.72 (online Oct. 05, 2021)
Improvement of the Open IN functioning
Necessitates a restart of the instrument
BT-Lab® v1.71 (online July. 19, 2021)
New -ΔE limit in Modulo-Bat technique, Constant Current (CC) for Ni-MH batteries
Correction on the export txt (post process and online)
Overall stability and performance improvement
Necessitates a restart of the instrument
BT-Lab® v1.69 (online Feb. 10, 2021)
Addition of 2 techniques in Modulo-Bat:
Addition of information in the global view
Addition of Irange auto limited
Add a new warning and message window
APGC technique has been improved
CPW technique has been improved
Improvement of parallel channel safety limit
Corrections on buffer full
Overall stability and performance improvement
Necessitates a restart of the instrument
BT-Lab® v1.65 (online July. 18, 2019)
Overall stability and performance improvement
Addition of graphical undersampling (vs time) with automatic addition of points when zooming
Correction on the export txt (post process and online)
Improvement of Irange Auto
Cleaning of log messages
Addition of Temperature Control and EDC techniques
Necessitates a restart of the instrument
BT-Lab® v1.64 (online January. 28, 2019)
Overall stability and performance improvement
Necessitates a restart of the instrument
BT-Lab® v1.63 (online Sept. 27, 2018)
Correction on BCS-815 (parallel mode)
BT-Lab® v1.62 (online Sept. 11, 2018)
Overall stability and performance improvement
Correction of different techniques (PEIS, CV, MB-UP)
Correction of bugs in parallel mode (BCS-815)
Safety limits time can be fixed at t>2ms
Necessitates a restart of the instrument
Correction on BCS-815 (parallel mode)
BT-Lab® v1.61 (online Sept. 11, 2018)
New live text export features
Correct several UI bugs
Overall stability and performance improvement
Necessitates a restart of the instrument
BT-Lab® v1.60 (Online Jun. 06, 2018)
New live text export features
Correct several UI bugs
Overall stability and performance improvement
Necessitates a restart of the instrument
BT-Lab® v1.58 (Online Apr. 09, 2018)
In GCPL4 allows the setting of the limits in C/N and CxN
Necessitates a restart of the instrument for version older than 1.55
BT-Lab® v1.57 (Online Nov. 20, 2017)
BUG CORRECTIONS
Correct several UI bugs
Correct a limitation on safety limits
BT-Lab® v1.55 (Online Sep. 11, 2017)
NEW FEATURES
Supports of BCS-series without EIS option
Allows the reset of an individual channel
Z Fit: New Application filter. According to the application selected (Battery, Supercapacitor, Fuel Cell, Photovoltaic, corrosion, General Electrochemistry, Ultra Micro Electrode, Material, Test Boxes), only typical equivalent circuits show up.
Cycle definition for battery/supercapacitor testing. It is now possible to define a cycle with a "discharge/charge" sequence whereas previously only the "charge/discharge" sequence was possible. This option is available on-line ("Advanced Settings" tab=> "Miscellaneous" box) or off-line ("Tools" menu=>"Repair file" function). By default, the "charge/discharge" sequence is set.
BUG CORRECTIONS
BT-Lab® v1.53 (Online May 30, 2017)
NEW FEATURES
Allow limits in ModuloBat Urban profile
Display Urban Profile file name in ModuloBat Urban Profile
BUG CORRECTIONS
Solve several issues in Urban Profile Power and Load
Performance improvement
BT-Lab® v1.52 (Online February 24, 2017)
BUG CORRECTIONS
Solve a compatibility issue between MB-EIS and Z-Fit
BT-Lab® v1.51 (Online January 27, 2017)
BUG CORRECTIONS
I overload error fixed.
First step in ModuloBat reports the correct I ranges
BT-Lab® v1.50 (Online January 16, 2017)
NEW FEATURES
Grid mode: A new GUI for Modulo Bat, check our movie here
BCD technique: A more flexible Battery Capacity Determination technique, check Techniques and Applications manual §3.1.1
Restore: A new function to restart a test where it stopped, check Software User manual §2.7.3
Append: A new function to merge to data file, check Software User manual §2.7.3
New loging engine and log files
BUG CORRECTIONS
Frozen channels when commutation from EIS to DC techniques
CS limit not respected
Numerous performance and stability improvements
BT-Lab® v1.34 (Online October 3, 2016)
BUG CORRECTIONS
Modules recognition issue on channel I and over : Fixed
BT-Lab® v1.33 (Online September 6, 2016)
NEW FEATURES AND IMPROVEMENTS
Loging: Improved loging in case of reconnection
Text export: Now indicate the technique start time
Factory Test: New tab with connection variables
Broadcast: Improved treatment of network devices other than Bio-Logic
FPGA : Synchronization improved
BT-Lab® V1.32 (Online June 21, 2016)
BUG CORRECTIONS
Power Supply recognition issue on older hardware : Fixed
Experiment modification during a run disabled : Fixed
BT-Lab® V1.30 (Online May 10, 2016)
NEW FEATURES AND IMPROVEMENTS
Techniques and Analysis
Z Fit:possible to set equivalent circuit graphically and perform the file process by batch.
Export txt file: template can be saved and columns of the variable can be changed.
Cell characteristicscan be saved as template. Some templates for battery and corrosion application have already been set.
CVtechnique is proposed in the Battery application folder.
An additional algorithm is offered to process the dQ/dEavailable in the batteries analysis section under DCS. It is available for files with sampling condition in time, and not in voltage variation dE.
Support of climatic chamber. The Extapp technique and an "exe" file are provided with the installer to control ESPEC climatic chamber.
SYNC technique. This technique is used to synchronize several channels together. It is especially useful when many channels have to be synchronized in order to go to next step or technique.
Summary per protocol and cycle is now available for ModuloBat techniques.
txt fileto be imported GPI technique has been added in the settings.
Communication
Improvement of the data transfer speed by a factor >2.
USB drivers are no more installed (there is no USB communication for the BCS).
Manuals
BT-Lab's manualshave been divided  into three manuals. One software manual, one for the analysis package and one for the technique & applications.
Cycle calculation is explained in the 2.1.1 of BT-Lab & EC-Lab Data Analysis and Processes manual.
Graph
Decimation has been defaulted to Draw only lines after 1500 pts and Undersample traces after 5000 pts.
Newsletter
The newsletter now support multiple html links.
BUG CORRECTIONS
A temperature sensor is detected on the BCS-805.
Q calculated value not updated in the limit field.
UP .txt files cannot be changed when the channel is running.
After changing the file's name, Under sampled and Splited files have no extension.
Export – Import settings creates Q discrepancy.
E range=0 – 10 V for BCS-805 and BCS810.
Socket Already Opened error fixed.
BT-Lab® V1.10 (Online June 19, 2015)
NEW FEATURES
New BCS-8xx modules i.e. BCS-805 and BCS-810 are supported.
BCS-8xx hot plug. BCS-8xx modules can be plugged to the BCS-COM (module that is managing the communication) while experiment is running.
Urban profile import is now available in the ModuloBat (MB) techniques.
A Log file is now created for each BCS-8xx module. This file includes detailed information about communication, error/warning messages. It is located in "My Document/BT-Lab" directory.
IMPROVEMENTS
Data transfer has been improved. Data transfer is faster.
EIS measurement has been improved to make it faster.
Stop individually grouped channels.
BT-Lab® V1.07 (Online March 06, 2015)
BUG CORRECTIONS
A Safety limit bug was observed with PEIS and GEIS techniques when they are used in linked techniques setup with a position in the setup higher than 1. This bug has been corrected in the version BT-Lab 1.07.
BT-Lab® V1.06 (Online January 27, 2015)
NEW FEATURES
The lowest frequency for EIS measurement is 10 mHz. In the previous version, it was limited to 1 Hz.
New techniques has been added such as GCPL (CC-CV), Cyclic Voltammetry… and also techniques dedicated to supercapacitor testing.
"Test File Export" tool has been improved. It allows user to create template, modify the order of the variable column…
BUG CORRECTIONS
BT-Lab® V1.03 (Online August 11, 2014)
BUG CORRECTIONS
The "export on line" box was generating an error resulting in freezing the interface.
BT-Lab® V1.02 (Online July 06, 2014)
BUG CORRECTIONS
Some default parameters in the EIS techniques have been updated such as Nd (number of points per decade) to 8.
At the end of the EIS techniques the safety limits were not checked properly resulting in a pause in the experiment.
The number of EIS sequences was limited to 18 starting to count from the instrument boot.
BT-Lab® V1.01 (Online June 10, 2014)
NEW FEATURES
In the ModuloBat sequences, it is possible to define a limit in the sequence on a C value or C/N or C*N.
Additional variables are now automatically generated by BT-lab software.
Analog I/O and triggers on the front panel of the BCS-815 are now controlled by BT-lab.
External devices can now be controlled in BT-Lab using the Analog I/O and triggers of the BCS-815 front panel.
In the ModuloBat sequences the limit on T and |dT/dt| are now available.
In the safety limits, the Anlog Input can be used as a safety limit.
The « Virtual Potentiostat » window has been updated for the BCS-815.
The window to put channels in parallel has been updated.
A new dedicated icon has been added for BT-Lab software.
Automatic current range is now available in potentiostatic mode.
The cell characteristics window for batteries of EC-Lab software has been added in BT-Lab including X coefficient.
In the ModuloBat technique, the successive EIS sequence are now stored with sequence number in order to analyze each EIS curve individually.
The coulombic efficiency is automatically calculated and displayed. The associated CED (coulombic Efficiency determination) fit is now available.
BUG CORRECTIONS
At the end of the experiment the last data point was not recorded.
On Asian versions of windows, the unit for the current was not displayed properly.
It was not possible to load BT-Lab on 8 BCS modules simultaneously.