Topic
5 min read
Which sample to load in your CD microplate reader?
Latest updated: December 15, 2021
Circular dichroism (CD) is commonly used to assign the secondary structures of proteins and determine enantiomeric purities in asymmetric syntheses, both of which benefit from the ability to carry out the high-throughput measurements. CD relies on the differential absorption between left and right circularly polarized light around a chiral center. The primary advantage of the EKKO™ CD Microplate Reader is its speed, resulting from the use of well plates, allowing for the highest throughput possible.
This removes the time-consuming steps of transferring the contents from each well of a well plate into a cuvette, and  cleaning the cuvette between measurements. As a result, it takes only two minutes to measure the CD signal in all 96 wells of a standard well plate at any given single wavelength and needs less than 90 minutes to measure all 96 CD spectra over 50 wavelengths in a standard well plate. This results in a significant increase in productivity – as much as 100-fold with respect to conventional CD systems coupled to liquid handling robotics.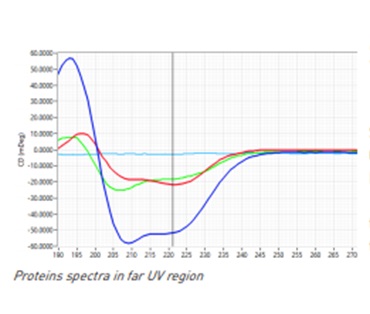 In this article we demonstrate measurements for several CD standards, using molecules commonly used in circular dichroism. Enantiomeric excess measurements for CSA and the unique, in plate assays not available for traditional CD systems, are also described. Read more…
Circular Dichroism
Microplate reader
Enantiomeric excess
Secondary protein structure
Want to learn more about CD microplate readers?