Stopped-flow/quench flow
X-Ray head for µSFM
.
Accessory commonly used in time Resolved Small Angle X-Ray Scattering (TR-SAXS) experiments
Accessory used to connect stopped flow instruments to synchrotron beam lines
X-ray scattering stopped-flow:
Time Resolved Small Angle X-Ray Scattering (TR-SAXS) has become a popular technique to characterize nanostructures.
The µSFM is the ideal solution for applications where the cost of solution is very high or where volume availability is limited. With 100 µl of stock solutions, you have enough to carry out 10 shots.
The X-Ray observation head is engineered with a 60° opening to maximize the solid angle so both Small Angle (SAXS) and Wide Angle (WAXS) scattering applications can be covered. A standard Berger Ball mixer is built-in in the X-Ray head.
The x-ray head for µSFM can only accommodate 1,1 mm (OD) capillaries.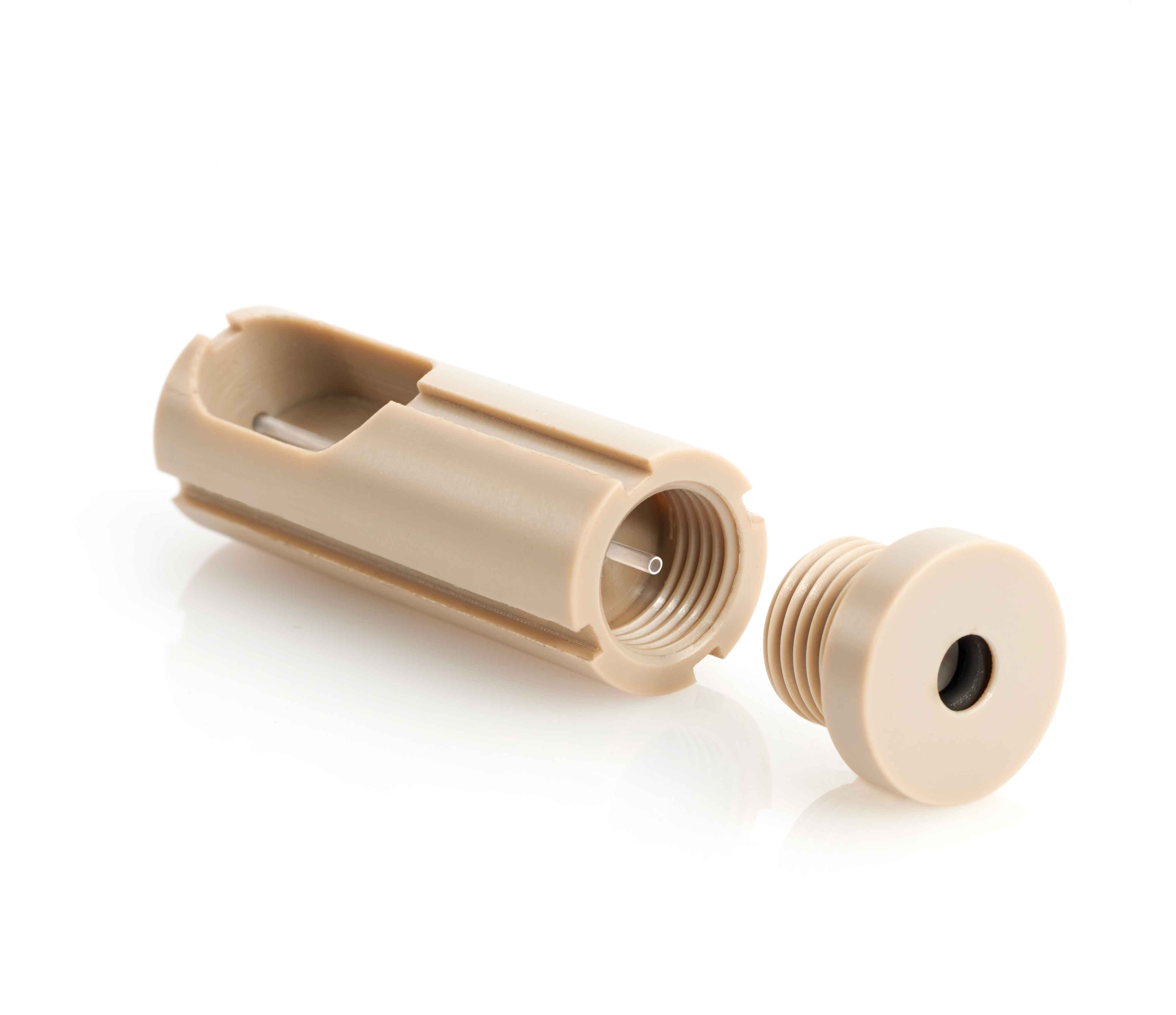 X-Ray accessory for µSFM includes:
● Observation head with large opening window,
● Capillary holder (capillaries not supplied)
● Berger Ball mixer,
● FFKM o-ring
For applications where the user needs to simultaneously measure XAFS and absorbance along a longer light path, a customized TC-50 cuvette (5 mm light path) with thinner walls is available. Contact Bio-Logic for more details.
Specifications
| | |
| --- | --- |
| | |
| Solid angle aperture | 60°C |
| 10 valuable shots from a 100 µl stock solution | |
| Dead time | 2 ms |
| Minimum volume per shot (total) | 24 µl |
| Minimum injection volume | 3 µl |
| Mixing ratio | from 1:1 to 1:9 |
| Full solvent compatibility | Yes |
| Temperature range | 0 to +50°C |
Request a quote.
Our team is ready to help
Contact us